Jacksonville to Miami: Why Our Girls Road Trip Rocked

Jacksonville to Miami: Why Our Girls Road Trip Rocked
Best road trips in the U.S. anyone? Here's what made Sofia and Veronica's Jacksonville to Miami outing fabulous.
Putting Office Life on Hold
We all get to that point.
Where the daily grind starts overtaking us.
Where we find our inspiration fizzling and our enthusiasm failing.
Call it one of the inevitabilities of modern (office) life.
More interesting is how you choose to overcome it.
Here's what happened when my best friend Sofia and I bested our office monotony with a trip to cosmopolitan Miami.
From Easygoing Jacksonville to Magical Miami
With eager hearts, we wave goodbye to our hometown of Jacksonville and hello to the open I-95 highway.
Once we're on the way, we both start to feel better (as evidenced by Sofia, who's exulting in the techno-music beats that are pumping out of the speakers).
(Yassss, liquid sunshine is a Floridian phrase; liquid sunshine refers to the phenomenon of precipitation while the sun is still shining outside).
Everglades, Antique Shops, and State Parks
Browsing our phones at a roadside diner we've stopped at, we see that the Mt. Dora area (it's close to Orlando) has tons of antique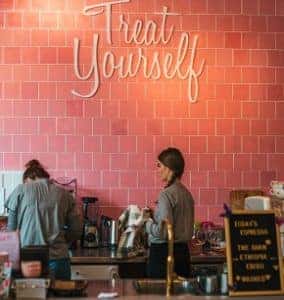 shops and little boutique restaurants for us to explore.
As the area looks super cute, we limit ourselves to coffee before heading back out to the highway to find it.
When we do, Mt. Dora delights. We actually end up spending a few hours in the town before making for Blue Springs State Park.
Another gem, once at Blue Springs, we end up opting for a guided riverboat cruise on the St. John's River.
It turns out to be one long stretch of blue-green relaxation.
"I'm glad we left home," Sofia says with a blissful smile as I nod my head in agreement.
The best part is how we've left our phones in the car so we can stay 100% in this moment.
We're on #Miamibeach !(Wait, Can we Just Make This Our Forever Home?)
Once in Miami, we were reminded that the white sand beaches and out-of-this-world architecture weren't myths.
Did you know?
Of course, the world-famous South Beach needed no introduction!
*From here, we were introduced to icy mojitos and an oceanfront view.*
After three days straight of luxuriating on South Beach, we made our way back into the Jeep Compass to head home. (But not before putting in some Miami job applications online!).
Best Road Trips in the U.S.
Great River Road. The Mississippi River is the country's most massive. In fact, it runs through ten different states! By taking the Great River Road, you'll get to see a HUGE SLICE of some of the best scenery in the U.S., including the Mississippi River. You also get the opportunity to start and end in a variety of different cities and states. One of these, of course, is New Orleans (or The Big Easy).  
Four Corners. This one is a classic. Four corners is a spot in the American Southwest where Arizona, Colorado, New Mexico, and Utah meet. Navajo Nation maintains a monument that marks the point where all four states converge. Here, you can have your feet in two different states at the same time. Within seconds, you can have them in two other ones. How's that for unique?
Sedona, Arizona to The Grand Canyon. The Grand Canyon is one of the most unique spots in the entire U.S. What you may not know is that Sedona, Arizona is also an amazing place to visit. Activities waiting for you in Sedona include hiking (you have to see the Devil's Bridge Trail), Tlaquepaque Arts & Crafts Village, fly fishing, and scenic tours.
Jacksonville to Miami (by way of Ft. Lauderdale). The trip that Sofia & Veronica took! In addition to miles and miles of Atlantic coastline, you'll also have the opportunity for stops in Daytona Beach, Fort Lauderdale, and the always luxurious West Palm Beach. Of course, your end destination, Miami, allows you to indulge in delicious Latin food AND all of the South Beach sophistication that you can handle.
San Francisco to Napa. This road trip option provides you with plenty of culture, sunshine, and wine. Need we say more? If forced to, we'd add that Oxbow Public Market (Napa) and Ghirardelli Square (S.F.) put this trip's potential over the top.